Christ Temple Church
Great Commission
---
Our Mission
CHRIST TEMPLE CHURCH OF THE APOSTOLIC FAITH INC. exists to help endow the Great Commission. Our mission is to fund the "going and teaching" of all nations, acknowledging that the Gospel will be preached to all nations before Christ returns. We acknowledge His Commission and desire to participate in His purpose.
Our Vision
We at CHRIST TEMPLE CHURCH OF THE APOSTOLIC FAITH INC. have a vision of endowing the Great Commission by teaching biblical stewardship, encouraging believers to exercise their gift of giving, and by providing a safe haven for their gifts from net worth.
Our Belief
God owns everything and He entrusts individuals with His resources to accomplish His will. He establishes us as stewards. One of the reasons individuals are blessed financially is to fund the kingdom. We can be taught to be good stewards, but giving is spiritual and must be motivated by the Holy Spirit. Therefore, we trust God to motivate His people to provide for our needs and underwrite His will. Giving from net worth, whether during your life or as a part of your testamentary estate plan, is an integral part of financial stewardship. It should be motivated by the Holy Spirit and thoroughly planned.
Our Philosophy
We recognize that we honor the Lord Jesus Christ by developing personal and professional integrity and competence. "And whatever you do in word or deed, do all in the name of the Lord Jesus, giving thanks through Him to God the Father." (Colossians 3:17) We strive to excellence in all that we do.
Trust must be earned, and in order to establish confidence in the integrity and competence of our staff at CHRIST TEMPLE CHURCH OF THE APOSTOLIC FAITH INC., we have established some guidelines for our operations.
We encourage you to seek your own legal and tax counsel before entering into any legal agreement, and we work in concert with your advisors.
We place the needs of the individual before the needs of the organization.
We work with professional individuals to ensure that the funds entrusted to the Church are managed with integrity and expertise.
Our Offer
CHRIST TEMPLE CHURCH OF THE APOSTOLIC FAITH INC. is organized and operated as a supporting organization for the support and furtherance of the purposes of Christ Temple Chrurch of the Apostolic Faith Inc., and other publicly supported organizations with similar purposes, and which subscribe to the religious purposes and statement of faith of Christ Temple Church.
The Board of Trustees of CHRIST TEMPLE CHURCH OF THE APOSTOLIC FAITH INC. have general charge of the affairs of the organization. They are elected based upon integrity and competency as well as commitment to our mission and vision. The board is selected from a list of candidates approved by the board of trustees of Christ Temple Church by a vote of the board of directors of Christ Temple Church of the Apostolic Faith Inc. The church was incorporated on May 22, 1984. We have been recognized by the Internal Revenue Service as an organization described in Internal Revenue Code section 501(c)(3) and are thus exempt from federal income tax. In addition, we are considered a public charity and not a private foundation. Our Federal Employer Tax ID number is 52-1349334.
Endowing the Great Commission
Christ Temple Church of the Apostolic Faith Inc.
9020 B Woodyard Road
Clinton, Maryland 20735
301-868-3567
Email: christteme@aol.com

---
>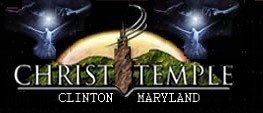 ---